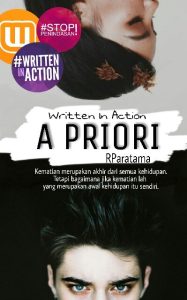 (22 votes, average: 1.00 out of 1)
You need to be a registered member to rate this post.

Loading...


Loading…
A Priori ch. 13 Luapan Takdir
Bacalah dengan posisi yang nyaman dan jangan membaca terlalu dekat, ingat 30 cm adalah jarak yang paling minimal untuk aman mata.
Sebelumnya
"Rina kenapa kau membiarkannya masuk dan bocah laki-laki itu siapa?" Zia berucap tidak terima bahkan sambil menghentakan kakinya dengan marah.
Rina hanya bisa menggeleng pasrah melihat sosok adiknya yang marah tanpa melihat kondisi, "Azka ingin mengambil jaketnya dan Raka akan makan malam di sini." Ucap Rina tegas.
*****
Sekarang mereka berkumpul disebuah meja makan yang saling berhadapan dimana Azka duduk berhadapan dengan Zia dan bersebelahan dengan Raka disampingnya yang berhadapan dengan Rina yang masih sibuk menata beberapa makanan.
"Ayo makan." Rina tersenyum sambil mulai menyuap makanannya.
"Jadi kenapa mereka juga ikut makan?" Zia kembali protes sambil menatap Azka yang didepannya.
"Sttt. Saat makan tidak boleh bicara." Azka memberikan beberapa sayuran diatas piring Zia.
Ruang makan sekarang bahkan terasa kaku karena tatapan marah Zia yang sangat terlihat hingga beberapa kali Rina dan Raka menahan senyum karena beberapa percecokkan yang sebenarnya sangat tidak penting karena Zia yang seringkali menendang kaki Azka yang tengah didepannya dan dibalas Azka balik tanpa peduli dengan amarah Zia.
"Terimakasih makanannya." Azka menyelesaikan makannya terlebih dulu lalu berjalan menuju dapur sambil membawa tempat makan dan canggkir yang digunakannya lalu mulai mencucinya tanpa bicara sediitpun. Zia yang melihat itu segera mengikuti langkah Azka dan memperhatikannya dari belakang meninggalkan Raka dan Rina dimeja makan.
"Apa yang kau lakukan Zia?" Azka mengetahui jika ia diperhatikan dan pertanyaan ini menjadi pencair suasana yang munkin sangat kaku bagi mereka.
"Jaket itu biar aku cuci dulu baru ku berikan pada mu." Jawab Zia langsung tanpa ingin basa-basi karena baginya Azka pasti akan mempermainkannya lebih jauh jika ia tidak bersiap-siap untuk melayangkan basa-basi yang mungkin akan membuatnya terjebak oleh perangkap Azka.
"Baiklah." Azka berpaling lalu membuatnya berhadapan dengan Zia, tangan Azka terulur sambil menggoyangkannya dengan dibarengi senyum miring yang membuat wajahnya lebih telihat tampan walau hanya dengan tatapan yang tampak mengejek Zia.
Zia menatap bingung dengan uluran tangan Azka yang ada didepannya, lalu tatapannya sekarang beralih hingga tatapan mereka bertemu,"Apa?" ucap Zia ketus tanpa niat membalas senyum Azka.
Tapi baru saja Azka ingin membuka mulutnya tiba-tiba saja terdengar suara rusuh seperti ada yang membuka pagar rumah secara paksa hingga Zia segera ingin meninggalkan dapur tapi ditahan  ditahan Azka dengan menarik lalu menggenggam kuat tangan Zia. "Ikuti saja aku." Suara Azka sangat terdengar jelas jika itu bukan hanya ucapan biasa tapi sebuah perintah tanpa mendengar satupun penolakan Zia.
Saat Zia dan Azka kembali menuju meja makan disana Rina dan Raka juga tampak menatap mereka dengan raut wajah jika ada sesuatu yang tidak beres diluar. "Apa kalian mendengarnya juga?" ucap Rina dengan nada khawatir.
"Aku yang akan periksa keluar kalian jangan keluar apapun yang terjadi." Azka melepaskan genggamannya pada tangan Zia lalu berjalan menuju pintu depan.
***
Beberapa orang mulai merusak pagar putih dengan secara paksa hingga terbuka, dua mobil hitam memasuki halaman rumah Zia dan tanpa disangka sosok Wira turun dengan membawa senapan panjangnya tanpa ragu sekalipun ia memimpin orang-orang yang mengikutinya dari belakang.
"Bunuh semua orang di rumah, tapi sisakan sang dewi kemalangan itu." Wira berkata dengan angkuh sambil mengarahkan senjata apinya lalu menembak dengan sembarang hingga seluruh kaca jendela semuanya pecah hingga tidak beraturan dan meninggalkan bekas peluru pada dinding dan pintu.
Setelah puas Wira memberikan kode kepada seluruh anakbuahnya untuk mulai memasuki rumah yang menjadi incaran mereka, "cepat temukan dia!" perintahnya dengan senyuman penuh arti.
Sesaaat beberapa orang mulai mencoba menerobos masuk Azka sudah mulai menghubungi beberapa rekannya untuk sesegera mungkin mengirim bantuan "Aku akan mencoba menghambat mereka dan Raka sudah ku minta untuk mengamankan Klien. Jadi cepatlah datang."
Tepat saat pintu dan kaca di hancurkan Azka mulai menambahkan beberapa penghalang pada pintu dengan beberapa kursi dan lemari. Tapi saat Azka sibuk mendorong beberapa lemari tiba-tiba ada tangan lain yang ikut mendorong, Azka terkejut dengan kehadian Zia yang sekarang berada disampingnya.
"kau! Kenapa kau disini!" teriak Azka sambil mengguncang bahu Zia sambil melihat kearah lorong rumah yang disana juga ada Raka dan Rina. Zia yang mendapatkan teriakan hanya terus fokus kembali mendorong kursi kearah pintu tanpa peduli teriakan Azka.
"A maaf klien sungguh diluar kendaliku" Raka berbisik sambil memasang muka bersalah sekaligus  memberikan tanda dengan mengepalkan tangannya untuk memberikan semangat pada Azka karena ia barutau bagaimana susahnya menjinakkan Zia dan menurutnya itu lebih susah dari pada diajarkan Nadia menjinakan bom saat misi terakhirkali.
 Rina juga merasakan ketakutan karena keadaan yang sekarang terjadi tapi karena tidak ingin memperparah keadaan ia mempercayakan semuanya pada Azka yang tampak bisa diandalkan sekarang dan entah mengapa ia juga merasa lebih baik karena tangannya yang saat ini digenggam kuat oleh Raka sosok pemuda bisu yang baru saja ditemuinya. "Raka apa kita harus menelpon polisi?"ucap Rina sambil berbisik hingga Raka berpaling menatapnya dengan tatapan tidak setuju.
"Tenang saja polisi sudah menuju kesini jadi selagi ini bisa menghyalangi mereka ayo cari jalan kabur." Azka berkata sambil menarik Zia, mereka sekarang berlarian menuju pintu samping. Selama berlarian Azka dapat mendengar jika orang-orang diluar itu sudah berhasil memasuki rumah.
Sesampai dipintu samping saat di buka rupanya disana sudah berdiri sosok lelaki separuh baya dan benar saja itu merupakan Wira dengan senyum miring yang tampak mengejek kesalahan mereka tapi sebelum Azka sadari Raka dengan cepat menutup pintu itu lagi sambil menunjuk kearah jendela yang berada di sudut rumah.
Brak, Azka membuka jendela dengan paksa sambil melihat kearah luar yang tidak ada tanda-tanda sedikitpun orang yang mungkin mengikuti mereka. Jendela itu sungguh tempat kabur yang sangat bagus karena ada sebuah semak yang menutupi dan terletak dekat dengan mobil Azka yang mungkin hanya berjarak 5 meter.
"Cepat!" Azka menunjuk Raka agar keluar terlebih dulu lalu di susul Zia dan Rina tapi sebelum Azka sempat melompat dari jendela tiba-tiba saja ada sebuah tembakan yang mengenai kaca jendela.
"Kalian pikir bisa lari begitu saja dari genggaman ku." Ucap Wira sambil menodongkan pistol laras panjangnya sambil menggertakkan rahang bawahnya hingga terdengar suara yang cukup mengganggu Azka.
"Tenang saja aku tidak akan berlari tapi menghilang." Balas Azka dengan senyuman meremehkan sambil menjatuhkan beberapa butir kelerang hitam yang rupanya ketika terhantap kelantai akan mengeluarkan asap putih hingga menutupi seluruh pandangan. "Azka." Ucapan Zia terpotong karena, Azka yang lagi-lagi menariknya setelah  melompat lalu berlari  dan di ikuti Raka yang juga manarik Rina untuk berlari menuju mobil.
Dengan cepat Azka membuka kunci mobilnya lalu mendrong Zia masuk, "Kya! Apa kau tidak tau cara untuk lembut ke wanita hah!?" protes Zia sejak tadi walau tidak mendapatkan respon apa-apa dari Azka. Setelah memastikan mereka semua sudah didalam mobil Aka menyalakan mobilnya hingga menarik perhatiaan beberapa anak buah Wira hingga mereka sudah siap menghadang mereka.
"Halangi mereka!!" teriak Wira menggelegar tepat di belakang mobil Azka sambil menodongkan senjatanya, dan dor! dor! suara tembakan mulai terdengar, beberapa tembakan ada mengenai kaca belakang mobil dan sisa lainnya mengarah kesegala arah secara acak.
"Hei-hei, paman itu tidak tau apa ini mobil kesayangan ku." Azka menjalankan mobilnya tanpa peduli ada beberapa orang yang mencoba menghalangi sampai melewai pagar mobil polisi mulai tampak berdatangan tapi saat Azka melihat melalui kaca spionnya tampak ada satu mobil yang juga mengikuti mereka.
"Hei, Azka lihat kedepan!" tunjuk Zia karena tiba-tiba saja ada sesosok orang yang berdiri ditengah jalan yang akan mereka lewati, "Pak menyingkirlah!" teriak Azka frustasi karena ketika sudah diberi peringatan dengan beberapa kali orang itu tidak juga menjauh dari tengah jalan dan tiba-tiba saja mengeluarkan sebuah pistol dai jaket hitam yang dikenakannya.
"Yang benar saja." Azka dengan cepat membanting stir mobil kearah kiri hingga memnghantam besi pembatas jalan yang membuat seluruh orang didalam mobil menjadi terdorong kedepan. Mata Azka menatap kearah sosok hita yang tampk mulai menembakan peluru kearah mereka sambil beteriak "Semuanya menunduk!!".
Tepat setelah teriakan Azka terdengar seluruh jendla kaca mobil hancur pecah karena tebakan, "Cih seharusnya kutabrak saja tadi." Ucap Azka sambil berusaha menjalankan mobilnya kembali tapi sebuah pistol tengah berada tepat di samping kanan kepalanya.
"Anak kecil menyerahlah, ini sudah bukan permainan yang dapat kau menangkan." Suarah serak Fadli sang paman menyeruak masuk ke pendnegaran Azka hingga membuatnya berpaling dan melihat wajah sosok yang cukup mirip dengan ayahnya dulu.
Seluruh suruhan Wira sudah mengepung mobil Azka dengan pistol ditangan masing-masing dan siap menembak kapan saja. "Apa mau kalian!!" teriak Zia panik sambil menggengam kuat tangan Azka yang berada disampingnya.
****
Rina yang berada ditempat duduk belakangpun tidak bisa melakukan apappun untuk kabur dari situasi mengerikan ini. Sekarang mereka berempat berdiri di luar mobil sambil mengangkat tangan masing-masing, dengan menghadap orang-orang yang tampak menodongkan senjata.
"Jika kalian tidak ingin mati maka serahkan Zia." Wira dengan sombongnya memberikan senyum mengancamnya.
Azka dan Raka hanya menanggapi ancaman dari musuh mereka saat ini dengan senyuman misterius yang tertangkap dari masing-masing mata Zia dan Rina yang berada ditengah antara kedua lelaki tangguh tanpa rasatakut dengan perasaan bingung para wanita yang sebenarnya ketakutan setengah mati tidak menjadi gentar karena tau bahwa mereka tengan dilindungi.
"Hei apa pekerjaan mu sudah selesai." Bisik Azka pada alat komunikasinya.
"Aku akan mematikan lampu jalanan dan manpaatkan itu." Ucap Alda selaku hacker yang bekerja pada devisi, ia lah yang selalu memantau seluruh koneksi para patnernya yang berada dilapangan dan tepat setelah memencet tombol enter seluruh lampu jalan mati bersamaan.
Sesuai ucapan Alda, dengan cepat Azka dan Raka menggunakan kacamata khusus yang dapat melihat dalam kegelapan dengan baik lalu menyerang seluruh musuh yang tengah panik.
"Azka, kau di mana. Rina kau dimana." Panik Zia karena ketakutan walau sekarang Rina tengah memeluknya untuk menenangan sambil berbisik. "Tenang Zia, aku ada tepat disampingmu."
Zia menggenggam kuat tangan Rina sambil terus menutup matanya berusaha tidak memperdulikan susana mengerikan disekitarnya karena beberapa suara tembakan dan teriakan yang tidak terarah. "Kalian cepat masuk kemobil" Azka kembali berusaha menjalankan mobilnya dengan terburu-buru karena Wira yang juga tampak meminta anak buahnya untuk menyalakan mobil hingga lampu mereka dapat menerangi tempat ini.
Raka mendorong masuk Zia dan Rina hingga memasuki mobil dan menutup pintu mobil belakang dengan kuat sambil terus memukuli orang-orang yang mulai berusaha mendekat kearah mereka.
"Ayo jalan!" Azka berteriak senang karena berhasil mengemudikan mobilnya. Raka berlari lalu memasuki mobil dan duduk sidamping Azka sambil terus menembak kearah belakang dengan pistol yang dirampasnya.
****
"Kalian sungguh tidak berguna! Bagaimana cara mereka bisa kembali kabur, cepat kejar mereka!!" Teriak Wira murka sambil terus mengarahkan pistolnya untuk menembaki mobil Azka yang didepannya.
Raka menembak dengan serius bahkan sampai mengeluarkan sebagian tubuhnya memlalui jendela dan berpegangan pada besi atap mobil agar menyeimbangkan posisinya dan terus mengincar pada ban mobil yang berusaha mengejar mereka. Dan Brak! Suara letusan banmobil akhirnya terjadi tapi karena lambat bereaksi sebuah peluru berhasil mengenai bahu kirinya yang membuat keseimbangannya goyah.
"Kerja bagus." Azka menarik baju Raka hingga kembali terduduk tapi tatapannya kembali terarah pada darah yang merembes keluar dari bahu kiri yang tengah ditutupi tangan Raka.
Rina berhasil menenangkan Zia tapi hal buruk kembali terjadi, ia juga melihat apa yang menjadi perhatian Azka hinga dengan reflek memajukan tubuhnya hingga dapat melihat dengan jelas Raka yang tengah menahan sakit "A-apa yang terjadi? Apa kau terluka raka." Ucapnya panik sambil menutup mulutnya karena menahan panik.
Raka menggelengkan kepalanya tapi gagal untuk meyakinkan semua orang yang tengah menatapnya saat ini. "Mereka tampaknya sudah menyerah, aku akan ke klinik terdekat." Azka melajukan mobilnya lebih cepat hingga sekarang sudah berada di tengah kota dan memarkirkan mobilnya yang hampir seluruhnya rusak itu di depan sebuah klinik gawat darurat 24 jam.
****
Rupanya Nadia sudah berada di klinik itu terlebih dulu dan membawa Raka yang terluka masuk kedalam ruang perawatan."Mohon Keluarga sabar menunggu diluar dan apa ada yang terluka lagi?" ucapnya ramah layaknya seorang perawat.
"Yang lain hanya terluka gores kecil." Ucap Rina sambil menatap kearah Azka dan Zia yang memang terluka kecil karena pecahan kaca yang mengenai mereka.
SEE YOU ~~~
BY : RP