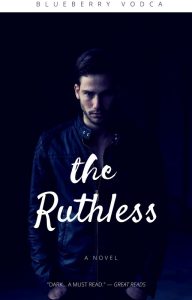 Back To Black
The Ruthless memiliki paras yang begitu manis, dengan senyuman smirk yang hangat. Dia begitu terkendali. Suaranya terdengar amat tenang dan dalam. Padahal di balik itu. Sesosok monster dari masa lalu mengambil alih seluruh hidupnya.
Sebutan The Ruthless sudah mengalir pada tubuh Jonathan Giovinco. Ini takdirnya. Seseorang yang menyandang Giovinco diakhir namanya, tidak akan puas dengan apa yang ia miliki. Apapun itu. Kekayaan, Wanita, Kejayaan dunia. Semua harus berada didalam genggamannya.
Misi hidup Jonathan adalah dibunuh atau membunuh. Hati seorang Giovinco akan tenang bila rasa haus darahnya akan penderitaan orang lain terlampiaskan.